The Congress is EUROAVIA's legislative body. Two meetings are held every year: the EMEAC (Electoral Meeting of the EUROAVIA Congress) and the AMEAC (Annual Meeting of the EUROAVIA Congress). Representatives from all Affiliated Societies gather together to discuss and decide about EUROAVIA current and future policies, about the status of the Association and the steps to take in the near and far future.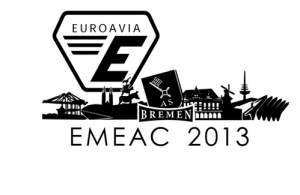 Un événement interne à EUROAVIA au niveau international:
Electoral Meeting of EUROAVIA Congress (EMEAC):
Ce congrès se déroulera en avril 2015 sur une semaine. Seront présents 50 étudiants venant de toute l'Europe, appartenant à EUROAVIA.
C'est pendant ce congrès que seront votées les lois régissant l'association et que sera élu l'International Board (Bureau International) qui prendra ses fonctions lors du second congrès (l'AMEAC) qui aura lieu à la fin de l'été suivant.